Spain has a rich cultural heritage, a majestic blend of topographies, and internationally recognized museums and cathedrals. This country has something to offer everyone, whether you want to experience the mountainous northern region of Cataluña, the rich beauty of the Sierra Nevada Mountains in the south, or the beautiful beaches of the Costa del Sol. Its prime location in Western Europe also makes it easy to visit bordering countries like Portugal, France, and even nearby Morocco.
Salamanca is known for being one of the top locations in the world to learn the Spanish language. It is home to the oldest university in Spain and is ISA's first program site, where our first group of students studied abroad in 1987. As a student here, you will benefit from living in a gorgeous medieval city small enough to navigate on foot, allowing you to gain an intimate understanding of the local landscape and culture. As you explore, you'll find yourself amidst the glowing sandstone buildings that have earned Salamanca the nickname "La Ciudad Dorada" (The Golden City).
Salamanca is an enticing location for service-learners who seek an immersive Spanish experience with authentic local culture. Salamanca is a small, college city that is very active during the spring and fall semesters but much quieter during the summer as many organizations and local shops are closed in August. You can find service-learning opportunities within community development, education, environment, family and youth development, and health. Our unique partnership with the Salamanca City Council opens the door to over 80 additional non-profits serving the local community. You can request a specific field during the interview and advising session, after acceptance into the program.
Living in ISA housing will give you the opportunity to experience aspects of the Spanish lifestyle that are inaccessible to the average visitor. Uncovering the uniqueness of your neighborhood and the surrounding areas will help you to feel right at home. With an open and adaptable mind, the experience of living in another culture can be highly rewarding.
Homestay
Homestays are best if you are seeking full linguistic and cultural immersion during your time abroad. Each host family has been carefully selected by ISA's resident staff to best accommodate your needs and to ensure a comfortable living situation. Homestays provide three meals a day (except on ISA excursion days) and laundry service once a week. You will typically share a room with another ISA student of the same gender. Single rooms may be available for an additional fee.
Student residence
The student residence (residencia in Spanish) is similar to a small dorm and is assigned on a first-come, first-served basis. The residencia houses Spanish and international students, giving you the opportunity to meet Spaniards and practice your language skills. Three meals per day are included, as well as laundry service once per week. Students will share a room with another ISA student but have the option of paying extra to secure an individual room. A $500 housing deposit is required from students choosing this option. ISA may retain some, or all, of the housing deposit in the case of damage to property.
Independent Housing
You may opt to secure housing independently. If you select this option, you will receive a discount equal to the housing portion of the program price. By choosing to opt out of ISA housing, you are responsible for researching and reserving housing, and paying all fees, deposits, and rent directly to the housing facility that you choose.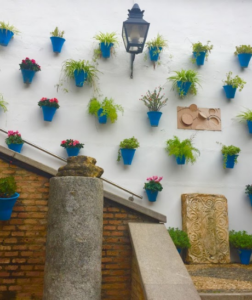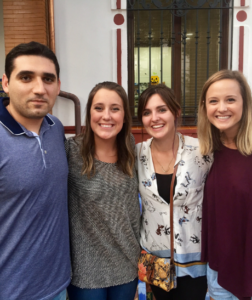 This program is unique in the sense that it has the ability to transcend cultural differences and connect with people so different from one another thanks to one common passion: serving others. If you want the opportunity to really dive into a culture and connect with people of the host community, service-learning is the best way to do it.
Julia O.
(Granada, Spring 2018)
I loved my service-learning experience abroad and would recommend it to anyone! For me, it was a great opportunity to integrate my Spanish language skills with my area of study (nursing), which is a really unique opportunity. It gave me the chance to have more purposeful interaction with the host community during my time abroad, which I think it a key aspect to the study abroad experience.
Rebekah H.
(Valparaiso, Fall 2017)
I learned so much participating in service-learning. This experience allows you to open your mind to so many different ways of life, social issues happening in other countries, and ways you can help. The skills you develop are endless because you learn to work alongside diverse groups and not only share your knowledge but also learn from them as well. This experience really helped me grow as a person.
Jordan P.
(Lima, Summer 2018)