Peru's allure can be attributed to the country's incredibly diverse geography and the marvels of its ancient history. Travelers have been dazzled by the lush rain forests, the rugged Andes Mountains, and a coastline along the Southern Pacific Ocean. In addition to its enticing natural beauty, Peru is enlivened by its indigenous and colonial history, which is evidenced by archaeological gems, such as Machu Picchu, and contrasted by its populous capital, Lima.
Peru is the ideal destination for adventure seekers, with plenty to see and explore outdoors. Go surfing in the South Pacific, hike up to Rainbow Mountain, and visit ancient Incan ruins at Machu Picchu. This must-see South American country is home to ten UNESCO world heritage sites, including the city of Cusco and the Nazca Lines. Live, work, and thrive with a community of people unlike any other.
Lima, the capital of Peru, is a Pacific coastal city full of fascinating contrasts between traditional and modern influences. Dating back to 2000 B.C., Lima was home to pre-Inca civilizations as well as other cultures whose Indigenous traditions and languages still thrive today. City districts are filled with museums, colonial churches, vibrant café scenes, striking architecture, and friendly people.
Lima is the ideal service-learning destination for participants who want to experience the culture and vibrancy of a large Latin American city while still having easy access to the country's natural wonders. Service-learning participants in Lima can use their skills to serve in sectors like education, environment, family and youth development, and human rights. Learn about marine life, raise awareness about environmental issues, or work with at-risk youth to help local organizations better serve their communities.
Living in ISA housing will give you the opportunity to experience aspects of the Peruvian lifestyle that are inaccessible to the average visitor to Peru. With an open-mind and flexibility, the experience of living in another culture can be highly rewarding.
Homestay
Host families are best if you are seeking full linguistic and cultural immersion during your time abroad. Each host family has been carefully selected by ISA's resident staff in order to best accommodate your needs and to ensure a comfortable living situation. Homestays will provide two meals daily and laundry service once a week. While students typically have their own room and share a homestay with another ISA student, you might share a room with another ISA student of the same gender.
Pensión
While similar to a homestay, pensiones are larger homes that provide housing to multiple students. This option includes two meals per day/seven days per week (excluding excursion days) and laundry service at least once per week. You will also be expected to coordinate meals with the meal schedule of the pensión. This is a great option for students who are more independent and would like to live with a larger number of students in a homestay setting.
Student Residence
Residencias are occupied by international students. At the residencia, you may or may not have your own bedroom and you will share bathrooms and common living areas. Residencias do not include meals, but you will have access to the kitchen and storage area at the residencia. All residencias include wi-fi and some include a computer lab.
Independent Housing
You may elect to secure housing independently. If you select this option, you will receive a discount equal to the housing portion of the program price.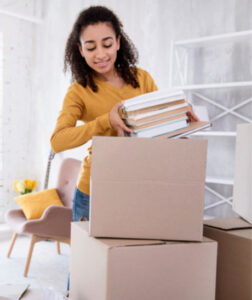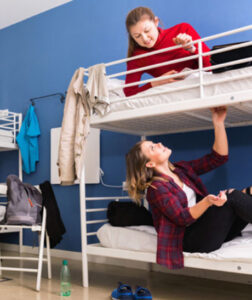 My experience in service-learning abroad changed my entire perspective on healthcare. I have a better understanding of intersectionality regarding underserved communities and their mental health, along with the external circumstances affecting them. Now, I feel better prepared to enter into career settings, as I feel that my distinct worldview has become an asset.
Julia R.
(Cusco, Summer 2022)
Service Learning was one of my favorite aspects of study abroad. I couldn't imagine my experience without it. I feel like I gained so much knowledge and experience, as well as many professional connections and lifelong friends!
Ben H.
(Meknes, Fall 2022 and Spring 2023)
This unique opportunity allowed me to directly participate in the host community. I was able to interact with locals while also gaining skills that I can apply to my future career. There is a service learning opportunity for everyone regardless of their interests and passions.
Avantika M
(Costa Rica, Spring 2022)
I would highly recommend this experience to anyone considering! My experience at my host organization allowed me to learn exponentially about my host country while making meaningful connections every day.
Kate S.
(Valparaiso, Fall 2022)