Peru's allure can be attributed to the country's incredibly diverse geography and the marvels of its ancient history. Travelers have been dazzled by the lush rain forests, the rugged Andes Mountains, and a coastline along the Southern Pacific Ocean. In addition to its enticing natural beauty, Peru is enlivened by its indigenous and colonial history, which is evidenced by archaeological gems, such as Machu Picchu, and contrasted by its populous capital, Lima.
Peru is the ideal destination for adventure seekers, with plenty to see and explore outdoors. Go surfing in the South Pacific, hike up to Rainbow Mountain, and visit ancient Incan ruins at Machu Picchu. This must-see South American country is home to ten UNESCO world heritage sites, including the city of Cusco and the Nazca Lines.
Once the capital of the Inca empire, Cusco is nestled in the Andes Mountains at 11,000 feet. As you walk among the cobblestone streets of Cusco, you will hear Quechua and pan-flute music and observe traditional dress, too. Admire the 12-angled stone crafted by the Inca and contemplate the presence of colonial design at the church of Santo Domingo, constructed above the Inca temple of Coricancha. A must-visit city in Latin America, Cusco's proximity to Machu Picchu, a UNESCO World Heritage site also named one of the new 7 Wonders of the World, makes it an increasingly popular destination.
Cusco is one of our few service-learning locations where we have opportunities in all six of our community sectors: community development, education, environment, family and youth development, health, and human rights. Many are drawn to our unique animal welfare and healthcare organizations, but there's a wealth of opportunities if you are interested in improving your Spanish language skills and learning about the local challenges in this popular tourist city.
Living in ISA housing will give you the opportunity to experience aspects of the Peruvian lifestyle that are inaccessible to the average visitor to Peru. With an open-mind and flexibility, the experience of living in another culture can be highly rewarding.
Homestay
Host families allow you to enjoy full linguistic and cultural immersion during your time abroad. Each host family has been carefully selected by ISA's resident staff in order to best accommodate your needs and to ensure a comfortable living situation. Homestays will provide breakfast, lunch and dinner every day and laundry service once a week. While students typically have their own room and share a homestay with another ISA student, you might share a room with another ISA student of the same gender.
Independent Housing
You may elect to secure housing independently. If you select this option, you will receive a discount equal to the housing portion of the program price.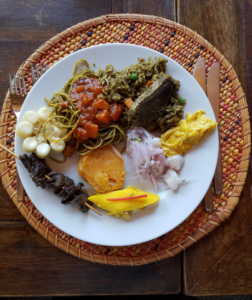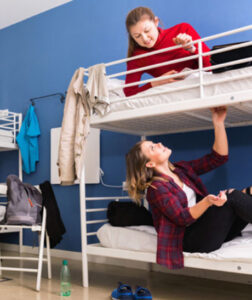 My experience in service-learning abroad changed my entire perspective on healthcare. I have a better understanding of intersectionality regarding underserved communities and their mental health, along with the external circumstances affecting them. Now, I feel better prepared to enter into career settings, as I feel that my distinct worldview has become an asset.
Julia R.
(Cusco, Summer 2022)
Service Learning was one of my favorite aspects of study abroad. I couldn't imagine my experience without it. I feel like I gained so much knowledge and experience, as well as many professional connections and lifelong friends!
Ben H.
(Meknes, Fall 2022 and Spring 2023)
This unique opportunity allowed me to directly participate in the host community. I was able to interact with locals while also gaining skills that I can apply to my future career. There is a service learning opportunity for everyone regardless of their interests and passions.
Avantika M
(Costa Rica, Spring 2022)
I would highly recommend this experience to anyone considering! My experience at my host organization allowed me to learn exponentially about my host country while making meaningful connections every day.
Kate S.
(Valparaiso, Fall 2022)